Held 2 November 2015
Program at a Glance
Call for Abstracts
Below are select photos from the event (click on individual photos for enlarged views).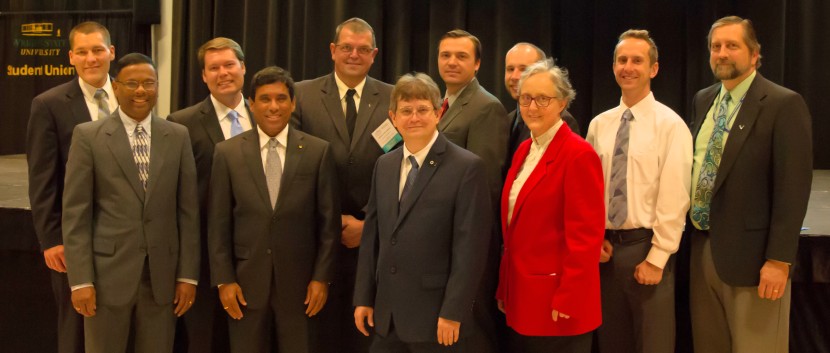 The Symposium Organizing Team with Keynote Dr. Johannes (Hans) Schade
From left to right: Daniel Richardson (Technical Program Chair), Ramana Grandhi (Wright state University Academic Representative), Joseph Miller (Vice Chair, K-12 Outreach, & Session Chair Organizer), Sivaram Gogineni (Keynote Organizer), Dr. Johannes Schade (Keynote), Tim Leger (Registration & Website Coordinator, ASME Dayton Section Chair), Andrew Caswell (Sympossium Chair), Darren Holland (Venue Coordinator & Cearville University Representative), Virginia Ross (Outreach), Tim Erdmann (Technical Program & Sponsorship Chair), Carl Tilmann (Government Relations).
Missing from photo: Marcus Bracey (Venue Coordinator), Tommy Baudendistel (K-12 Outreach), Benn Halls (Communications),Jeff Monfort (Event Photographer), Vince Miller (Financial Coordinator).